Cancellation & Covid Protocols
Covid-19 Overview
Mask & Testing Protocol
Tickets & Refund
FAQ
We Care About Your Well-Being
The health and safety of all BetterInvesting National Convention (BINC) attendees, staff, volunteers, and hotel employees continues to be a top priority. As we look forward to our first in-person BINC since 2019, we are dutifully monitoring all CDC guidelines and best practices in response to the COVID-19 pandemic. We are committed to follow the applicate CDC guidelines and create a healthy environment during your attendance at BetterInvesting's 70th National Convention, BINC 2022.
Mask & Testing Protocol
For all unvaccinated attendees and staff, for the virus that causes COVID-19, we will require proof of a negative viral test 1 -2 days before BINC, before allowing an attendee to enter the event. Fully vaccinated attendees and staff are exempt from this screening testing requirement; however, fully vaccinated individuals will need to provide proof of vaccination before entering the event.

In addition, for the health and safety of our community, guests will be required to wear a properly fitted face covering over their nose and mouth whenever they are not eating or drinking. This requirement is for all attendees regardless of vaccination status.

Our safety protocols are based upon CDC guidance. They may change based on evolving guidelines from health and safety experts and government authorities.

You will receive a notification prior to 2022 BINC with any updates to these protocols.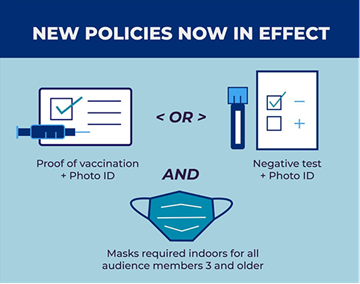 ---
This convention is open to all invitees and, because of ongoing health risks, particularly to the unvaccinated, participants are expected to adopt the risk mitigation measures (masking and social distancing, etc.) appropriate to their vaccination status as advised by public health officials or to their individual vulnerabilities as advised by a medical professional. Public convening may not be safe for all and carries a risk for contracting COVID-19, particularly for those unvaccinated. Participants will not know the vaccination status of others and should follow appropriate risk mitigation measures.
Tickets & Refund
Refunds will be offered for tickets purchased prior to May 1, 2022
Registration Cancellations MUST be received in writing by 5/1/2022. All cancellations are subject to a $50 processing fee. NO refunds will be made after May 1, 2022. Please email service@betterinvesting.org with your cancellation.

Stay at home if you're ill or symptomatic
Refunds or exchanges will be available for attendees who cannot attend BINC due to COVID-19 related issues.
Can I receive a refund if I can't attend BINC 2022 because of a positive test?
Yes, refunds will be available for those who receive a positive test, or for those who have been exposed and are waiting for test results. Please contact BetterInvesting member services for instruction at service@betterinvesting.org or 877-275-6242.
Frequently Asked Questions
Are masks required?
Yes, all guests 3 and older, must wear a mask that closely covers the mouth and nose while in the venue regardless of vaccination status.
Masks must be worn at BINC during all times unless actively eating or drinking.
How long will this policy be in effect?
This policy will be in effect until further notice. BetterInvesting will evaluate the policy on a regular basis as CDC guidance and local conditions evolve.
Does this policy apply to your employees, volunteers, and hotel staff?
All BetterInvesting employees volunteers and hotel staff are required to follow the CDC guidelines.
What is the Westin Park Central Hotel by Marriott doing to address BINC attendee's welfare?
Marriott has implemented significant operational changes to ensure patron safety. Details of Marriott's "Commitment to Clean" can be found at
headpieces://whattoexpect.Marriott.com/dalwi
.
What is acceptable proof of vaccination?
Acceptable proof of vaccination includes:
Physical vaccination card
Copy of vaccination card
Photo of vaccination card visibly showing the entire front of the card with date(s) of vaccination and individual's name that matches the patron's ID.
Proof of vaccination must accompany a valid driver's license, state-issued ID, or school ID if the patron is under 18.
Will you use an app for this validation?
BetterInvesting is exploring options for vaccine and testing validation but has not identified a solution at this time.
I've had COVID-19. Do I still need to be tested or obtain a vaccine?
Everyone entering BINC will need to provide proof of vaccine or negative test.
Will there be separate sections for vaccinated vs. unvaccinated attendees?
There will not be separate sections for people based on vaccination status.
Do I need to show my vaccine card every day?
Once you have registered and have been verified there will be no need to show your vaccine card daily.
---
Attendees with accessibility questions or who require additional assistance related to the BINC's COVID-19 protocols
may email at service@betterinvesting.org or 877-275-6242.