How do I start a new portfolio?
To create a new portfolio, the first step will be to get to the Portfolios and Studies tab. From anywhere in the online tools, click the Portfolios and Studies (My Studies) tab, just under the Home tab on the left hand side of the page.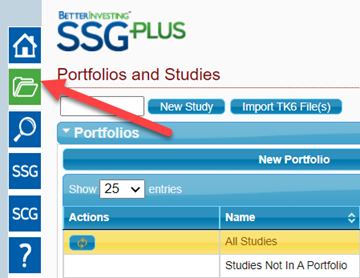 Next, click Portfolios, just under the New Study button. By default, everyone using the online tools has two portfolios: All Studies, and Studies Not in a Portfolio. The first time you click on the Portfolios button, the screen will look something like this:


To Create a new portfolio, click the New Portfolio button, as pointed to above.
From the Window that comes up Enter the Name you would like to use for a Portfolio, the Account (This is not required, but can be helpful if your club has securities at one broker, and you have personal holdings at another), and any Description you would like. Click Save, and the new portfolio will be added to your list. In the example below, the portfolio Club Portfolio has been added.


BACK TO QUESTION LIST