Importing .ITK files into the Online Tools
If you are not already using the CoreSSG or SSGPlus, then from the main BetterInvesting.org home page, click the My Studies button, in the Stock Selection Tools section.
From any CoreSSG or SSGplus page, click the My Studies tab, on the left hand side of the page (second from the top).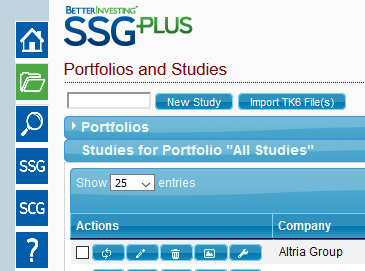 Under the Portfolios and Studies heading, click Import TK6 File(s), and then Choose File or Browse on the window that opens up.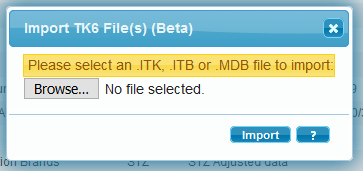 This will open a new window, showing a list of common locations and folders on the left, with the contents of the selected folder in the main part of the window. Use the list of locations on the left of the window to navigate to your .ITK file(s).

Keep in mind that studies cannot be copied directly from Toolkit. They must first be saved on to your computer, or other drive.
The most common places you might have a file waiting are on the desktop, in your downloads folder, or in your Documents folder.

In this example, we're looking on the desktop, and have clicked to select the ABMD stock study from 9/30/2015, prepared by ICLUB.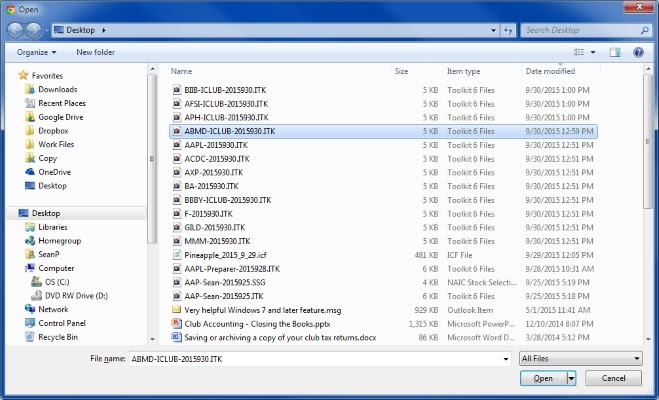 Double click the file, or click Open after selecting it, and you will return to the import dialog box, which will now show the name of the file.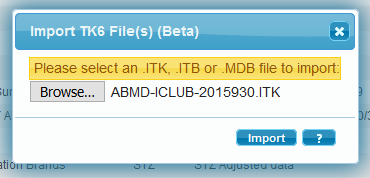 Click Import and the file will be copied from your computer, into your All Studies portfolio
BACK TO QUESTION LIST