Investment Club Support
The Portland Chapter provides support to BetterInvesting clubs in a variety of ways. The following subject areas contain valuable information in an effort to keep our investment clubs running smoothly and profitably. Please let us know if you have any questions by contacting us at contact@portland.betterinvesting.net
Investment Club Visits
What does your club need to learn? Would you like one of our Directors to visit your club to provide a short training session or demo an online tool to your club? Many Club Visits are free (First-time visit by a Chapter Director, Starting a New Club-type visit, and Club Visits celebrating significant club anniversaries are free – and usually run 20-25 minutes. Portfolio Reviews and complete workshops run longer and may have a small charge to cover our costs. Contact us at contact@portland.betterinvesting.net
Investment Club Contact FAQs
If you have questions about determining who your club contact currently is, how to change your club contact and other frequently asked questions, please see the attached document or contact us at contact@portland.betterinvesting.net

Please be sure that your club contact realizes that they will be the only one in the club receiving mailings and materials from the Chapter and that they should bring or forward copies of those items to the other members of the club.

Related Files - Club Contact FAQ
Investment Club Anniversary Certificate eProgram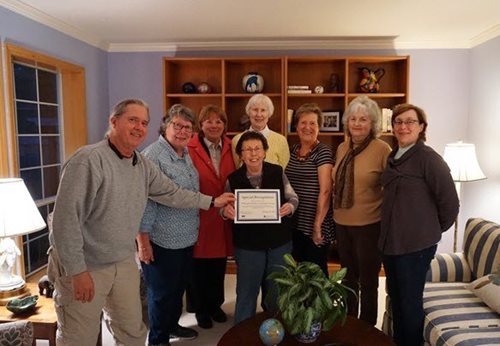 The Portland Chapter recognizes clubs celebrating their incremental five year anniversaries. We believe reaching such a milestone is an achievement deserving recognition and congratulations from BetterInvesting. Home Office provides the Portland Chapter a certificate for each investment club reaching this milestone.

A chapter representative will reach out to the club contact of each investment club celebrating this special anniversary to make arrangements for the certificate presentation. Please be sure to let us know of any change in contact information with regard to your club contact by sending an email to contact@portland.betterinvesting.net
Investment Club Portfolio Tune-up
In partnership with the Illowa Chapter, the Portland Chapter is proud to present a new program to our Portland Chapter Clubs: Our Directors have been trained how to review your Club Portfolio using the same techniques and process as Allen Holdsworth (a Chapter Director for the Iowa & Illinois Chapter.)
See the BI Portland Club Portfolio Tune - up Flyer for details.
Thank you for being a BetterInvesting Club!